Music taken from the Litlyngton Missal 1383-4
The Abbey choir dates back to the fourteenth century. In 1380 four boys from the Abbey's almonary grammar school – the forerunner of Westminster School – were recruited to form the basis of the Lady Chapel choir where the monks had begun to experiment with polyphony.
In 1393 three singing men were employed and four years later a further three. Thus a professional choir began to replace the monastic choir – though it did not flourish.  In 1480 the choir was reorganised: six boy trebles were recruited and the distinguished composer William Cornyshe became the first Master of the Song School. The music they sang was, according to the historian Roger Bowers, 'Florid in melody, exuberant in rhythm, extended and virtuosic.'
In 1497 Henry VII issued a proclamation that a monastery official was to go around the country and take the pick of boys with the best voices who would have to come to the Abbey. If their parents refused they would be faced with the King's 'utmost displeasure.' 
In Henry VIII's time when the Abbey became briefly a cathedral, the Lady Chapel choir was expanded to include 10 boy choristers, and the choir now moved from the Lady Chapel to the main body of the church. Under Queen Mary the Abbey once more became a monastery for a few years until Elizabeth I re-founded it in 1560 as the Collegiate Church of St Peter in Westminster and the music flourished once more.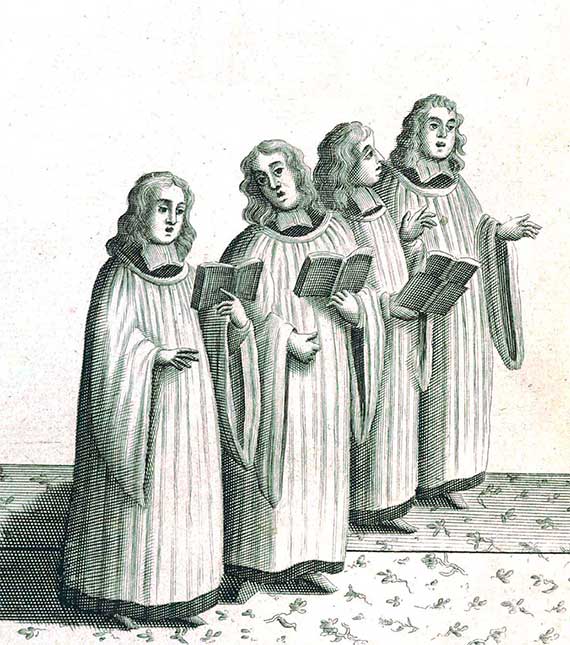 Choristers at James II's coronation - 1685
The Civil War saw the Abbey Choir disbanded and the organ destroyed.  At the Restoration of the Monarchy in 1660 a new choir was formed in time for Charles II's coronation in 1661. The seventeenth century saw the Abbey well served by some distinguished Organists including Orlando Gibbons, John Blow and Henry Purcell. Not much is known of the Abbey Choir in the eighteenth century, though until the mid-nineteenth century the Abbey's music was rather undistinguished. When conditions for choristers and lay vicars began to improve, so did the standard of musicianship, especially under Sir Frederick Bridge (Organist 1882–1918). The Abbey Choir School was opened in 1848 and the present building dates from 1915.  It has been extensively refurbished recently and it is now the only remaining choir school in Britain devoted exclusively to educating choristers.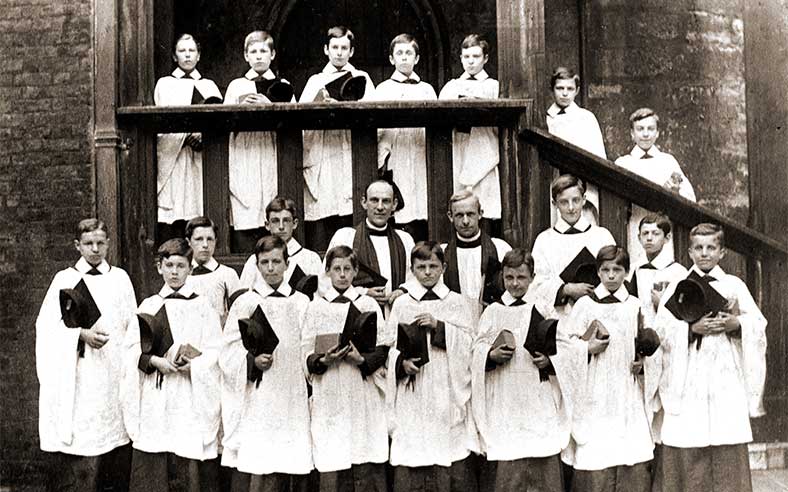 Choristers at the Abbey 1909 - 17 period